PROMOTES BETTER BREATHABILITY
There's no getting around it—wearing a mask can affect your breathing patterns, making a routine activity suddenly difficult. Poor mask construction can restrict breathing and trap exhaled CO2, which makes breathing feel even harder.
We engineered the OSR-M1 in so you can breathe easier. We worked with Solidworks and Dassault Systèmes to study how air flows inside and through the mask. Using high performance nonwoven polymer filter material and a large filter area, we keep breathing resistance low. By reducing the space between your face and the mask's filter, we reduce the CO2 level left in the mask to less than 2% on average.
PROVIDES A SECURE FIT FOR OPTIMAL COMFORT
Fit is critical when it comes to your face mask, not only for comfort but also for filtration efficiency and visibility. If a mask doesn't fit snugly around your nose and mouth, you risk breathing unfiltered air. If your glasses are fogging, your mask is leaking air, meaning it isn't working to its full potential.
We crafted the OSR-M1 with a soft flexible silicone face piece that conforms and seals snugly to your face. With three sizes—small, medium, and large—and flexible adjustable straps, you can achieve a comfortable custom fit for better performance.
SLOWS AIRFLOW FOR MORE EFFECTIVE FILTRATION
We harness the fundamentals of fluid dynamics for greater filtration from airborne particles. A larger area for airflow allows air to travel more slowly. When air moves at a slower speed through a filter, the filter can capture more particles.
We created the OSR-M1 for maximum filtration efficiency and minimal breathing resistance, with a larger filter area than used in other face masks. This larger area allows a greater amount of air to slowly pass through the filter, providing better filtration of inhaled and exhaled air. In independent testing through various partners including AFFOA, the OSR-M1 has demonstrated filtration efficiency of >95% of 0.075µm airborne particles.
Highly Reusable
Our Model 1 reusable mask relieves strain on the supply chain by consuming 3-4x less filter material than a standard disposable mask does. Rather than relying on excess filter material to shape the mask, our modular design puts materials to use where they work best so filter material is used only for filtering.
By wearing an OSR mask, you are supporting the effort to expand supply of filter material and limit impact on landfills. You'll also benefit by saving on the costs of buying disposable masks. After you have worn the OSR-M1 just 20 times, it will have paid for itself.
ADAPTABLE COMPONENTS
In a pinch, alternative filter media can be used with the Model 1 mask. The filter sealing mechanism is designed to accommodate a variety of filter media thicknesses. This makes it easy to swap filter suppliers without requiring new fit testing. It also means filter upgrades such as activated carbon inserts (available soon) can be used in your mask.
The modular design enables upgradable components, future-proofing your purchase. As new features become available, they will be universally compatible with any existing versions of an OSR mask.
To maintain supply chain resiliency, we've designed all components for very simple, single-pull injection molds. The facepiece is compatible with either LSR or TPE manufacturing processes such that we can rapidly deploy masks on traditional machines, and also leverage the superior mechanical properties of silicone. Back to Purchase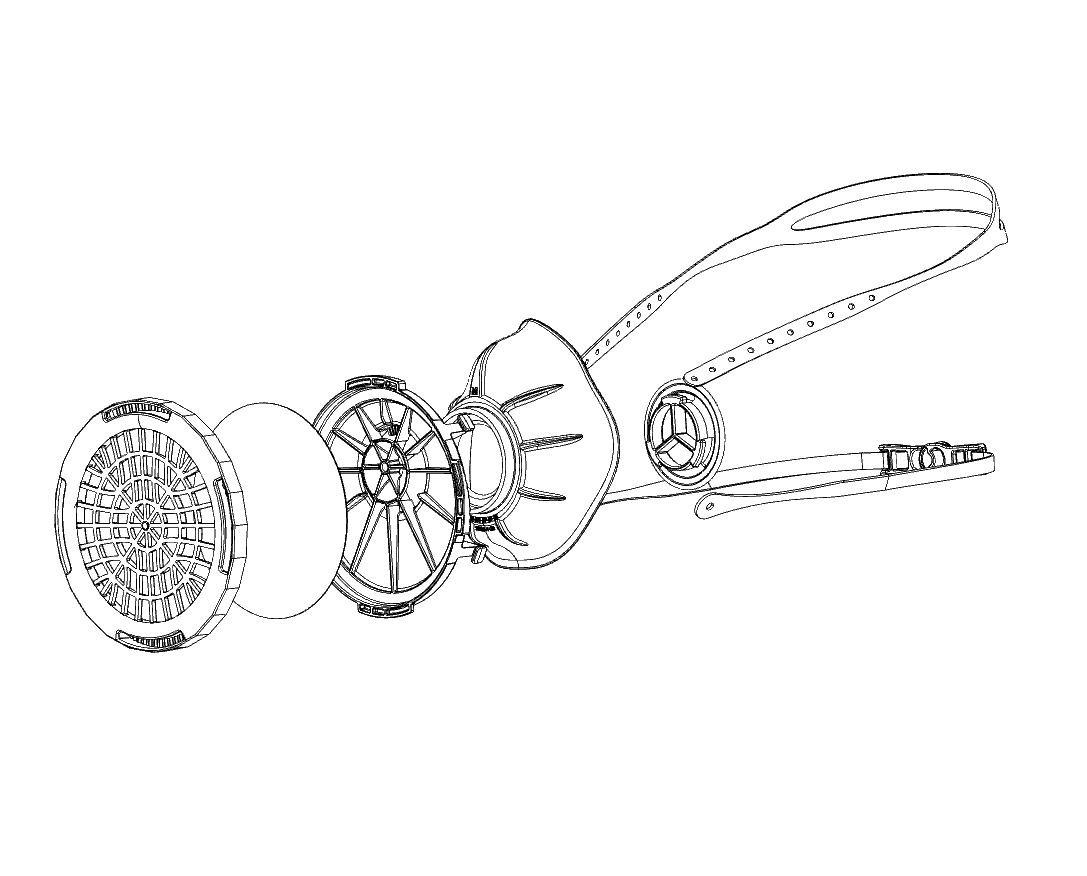 We are committed to designing a protective mask and maximizing impact, as safely, quickly, and for as many people as possible, until there is no longer a need. 
In March 2020 the pandemic blindsided the world. PPE supply chains froze up and we launched this effort to address the shortage of safe, effective, and resilient products for healthcare workers and the general public. Here we are, eight months into the pandemic; after a summer lull the virus is raging now stronger than ever around the world. 
We've never stopped working, we've done our homework, and now we have an effective professional mask that we are proud to introduce for an early release.
We are offering this limited quantity, pre-production lot right now because, while it is not yet certified, we are confident in its performance based on sound data. This launch is about getting masks into the hands of our partners and establishing new relationships with individuals and organizations that want to support our mission. The cost you see is effectively our cost to manufacture this low volume release.
Open Standard Industries is simultaneously ramping up full-scale production and creating an ISO-compliant quality system. Our mission is to get a fully certified device to market close to the anniversary of launching this effort (March 2020), at a competitive cost and in volumes that can make a significant impact.
We originally started Open Standard Respirator as a non-profit founded by a group of passionate volunteers who came together to pool their expertise and resources in hopes of solving a global crisis in PPE scarcity. The team developed a scalable, affordable, and sustainable solution that achieves beyond the immediate goal of protecting essential workers. It turns on idle manufacturing to create jobs, can be licensed for production globally, uses readily available materials, and will profoundly reduce the amount of future environmental / medical waste buildup as compared to other disposable masks.
The original goals of the team were to release a vetted mask as an open-source open-hardware design. Conversations with multiple health care providers, distributors, and experts in the field advised us not to release the designs open-source, at this time. The reasons include: hospitals generally need to use NIOSH/FDA certified masks, and that requires a manufacturer on record to hold liability for the product. In order to scale production of the hardware and get through the regulatory requirements there are substantial capital costs. Without some protection for the required investments, they will not happen. Other concerns included muddying the waters by having too many knock-off devices making sourcing legitimate quality product difficult for supply-chain managers.
In order to protect the goals of the team, of producing a mask that might ultimately be deployed to health-care workers, we found the fastest way to get into production while maintaining some semblance of our original intentions was to do the production ourselves. Producing and scaling hardware requires carrying many months of costs, which would either require a massive donation, or debt financing. It turns out that non-profits cannot easily make use of debt financing mechanisms. Thus the team created Open Standard Industries, Inc. to manage and scale hardware production.